Foodie Basics.com is for the average (yet fabulous!) person who has a desire to learn how to cook, hone their cooking skills, and a craving to learn the basics and fundamentals of cooking without getting overwhelmed by complicated and time consuming recipes.

The blog and website are written by Marty Bryant, an East Coast native, who lives in Santa Monica, California. She shares her love of food and the art of becoming a foodie by sharing recipes, cooking tips, and overall knowledge on how and where to find the freshest and most reasonably priced ingredients that stick within your budget and lifestyle.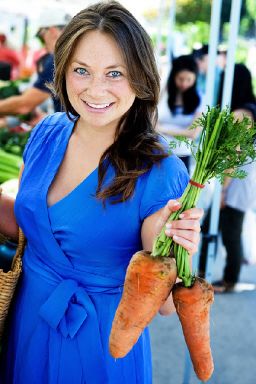 About The Author
I've been cooking meals for my family and friends since the age of eight. I learned the basics from my Norwegian grandmother, who inspired me to start making dinners for my parents and brother to help out. I started with some of my grandma's classics – Norwegian meatballs, mashed potatoes, tuna casserole – and moved on to an array of others with an emphasis on fresh ingredients and more flavor – classic greek salad, chicken piccata and bananas foster.
After a once a week trip to the grocery store with my dad, we'd have the staples and fresh ingredients on hand to get us through the following work week. I'd try to have dinner on the table by the time both of them got home from a long work day, and my brother was in charge of the dishes! Not only was cooking a great way to reap the benefits of a freshly prepared meal (and get kudos from my loved ones) – our meals spent around the table gave us a chance to catch up on the day, and build relationships with one another.
My travels abroad heightened my senses to new ingredients and new recipes. When I traveled to Greece the summer before my senior year at The University of Alabama, I fell in love with every small restaurant owner, and beamed at being able to pick my very own freshly caught fish at dinnertime. I returned to the states determined to recreate some of the amazing meals I had in Greece, and started teaching my friends about them too! Even the use of the simplest of ingredients – olives and feta – can turn an average meal into a showstopper.

Although teaching others about food and cooking isn't a full time job (I work in online advertising by day) – it's a passion of mine and what I truly enjoy. My hope is that you will read this site, enjoy cooking and creating my recipes, and be inspired to discover the local foodie gems near where you live. And better yet; share them with me and the other special people in your life. How do you begin – you ask? Support your local farmers, farmer's market, meat, cheese and specialty shops and be open to trying new things and asking lots of questions. Life as a foodie is super sweet and there's lots to learn and be inspired by, so let's get started!